Day 11
Our life experiences will have resonances within our innermost being, so that we will feel the rapture of being alive.
-Joseph Campbell
I will share this project in my future post! But I used my vintage tablecloths and assorted fabrics I had. The boys helped me collect the sticks and stuffed the apples with me. I will share this with my blogging friends.
When I went to the church flea market I found so great items and then found a garage sale with some lace and this wonderful anchor.
Isn't this a great piece.
My grandfather World War I and II, Navy Officer, the anchor just sings to me and it's white!
Daphne has a great giveaway, of course I want this beautiful purse!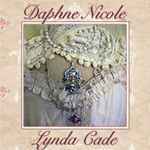 I included some family fun, living in the moment and joy (my blogging friends).
Safe Travels,
Di