A Beautiful Life
A beautiful life is defined by many things. My husbands most favorite Christmas memory is our grandson leaping into Santas arms.
Peaceful White Images Make me Happy
I find joy in whimsy
A beautiful snug bed to dream of sugar plums and fairys
The Gift of Love from My Grandpops to My Nana oh so many years ago
Merry Christmas
The love of our Lord Jesus on this upcoming Holy Night
Yes Jimmy, it is a Wonderful Life...thank you for 37 wonderful years
Sharing with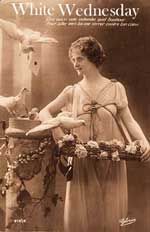 Alabaster Rose Designs
has a beautiful giveaway
THE STERLING SILVER SCALLOPED CHARM WILL BE PERSONALIZED FOR THE WINNER. Oh, don't I want this!! But, if I can't have it maybe you can. This is on my wish list for

Christmas

dear Jimmy!!
Many Blessings, Di