Wow I totally Missed where Bloggers Create,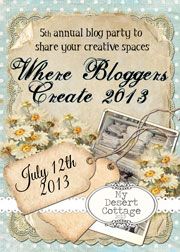 I participated last year but have been so busy with work I haven't looked around! So when I got my coffe this morning and sat down for a treat, I stopped on My Desert Cottage and Yes... I have been looking at everyones space, I thought I would share mine. So, come on in...
This is my storage area, files and books
I love to make cards, books and the grandboys love to create with me
My sweet girls shoes as inspiration (they are over 39 years old)!
Moving over to the desk are is an old crib bottom for my pictures
My desk come from an old North Carolina home (original paint ya'll) and the secretary from Florida
A shadow box of vintage joy some found, some family
An iron dishdrainer repurpose into a small bookcase
Moving around to my secretary that holds three drawers of hardware, cutters and projects
A bed to lay all my fabric on or just sit there and catch the HGTV shows
My suitcases filled with fabric and paper
I have my stamps, paper, paints and you name it supplies handy
I hope you enjoyed my little craft room, where I love to create!! Di