Laurie Jackson @ Button Floozies hosted this wonderful button swap. I have collected buttons for years and it was fun to create something for someone else
My book was filled with lace, paper and buttons
I built a snowman!
I found so much joy in creating. I spent time selecting each piece. My grandson helped me build the snowman on a snow day! How appropriate...
We watched frozen the night before to get ready for the snow! It only lasted one day but gave us inspiration.
Pieces of lace and buttons repupose in such a meaningful way. Who knows what function they performed before this. I love creamy white and used a vintage baby sock as well.
I used my favorite papers and quotes. I incorporated a vintage handkerchief and many secret pockets
I stuffed this pocket with small buttons
I did put a touch of color in on my last page. I used a page out of an old cook book and added some vintage petite candy canes!
Terri at

The Junque Seeker is my swap partner and you will not believe what I received
I am thankful for my blogger friends. I hope you all have a great week and a Happy Thanksgiving. joining so fun people now
Di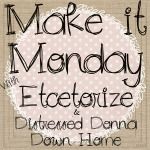 Inspire Me Tuesday